Fail: An attempt to travel around the world in 8 minutes without even stepping on to a plane.
My idea was sound. Or was it?
Start at one end of the Las Vegas strip and finish at the other. How hard could it be to film a short 8 minutevideo, meant to be 8 minutes with a short introduction to each themed casino representing different cities from around the world? It was Marc Passion versus Las Vegas, and you guessed it, Las Vegas was the winner.
I'm not sure if it was those little tired legs of mine or the compulsory consumption of 2 to 3 beers at each casino that slowed us down but here is my failed attempt to travel around the world in 8 minutes.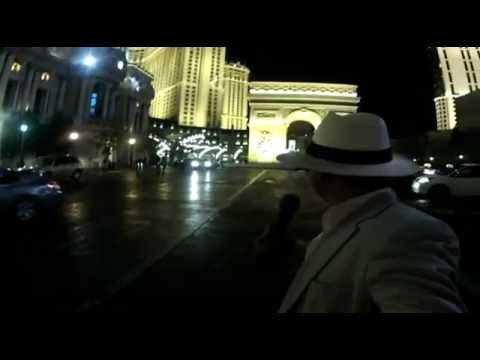 Our first stop took us back to in time to the great city of Luxor, Ancient Egypt. I visited here many years ago and it blew me away.  Starting with Abu Simbel Temple which has been built just inside the entrance of the Great Black Pyramid of Las Vegas. The fact is its original position was about to be flooded from rising water levels from the Nile River. Saving it was a must and the Egyptians cleverly cut the temple into 30 ton blocks and moved it to a new location 65 metres higher and  200 meters away, modern day engineering brilliance. Directly in front just like the Great Pyramids of Giza you will find a huge Sphinx Monument, but this one still has its nose.  To the right and named after the Casino is Luxor Temple, home of Ramesses II and his great monument.
Summary, if you fancy yourself as a bit of an archaeologist this is the place for you. And Ramessis II was a legend in bed.
North of Egypt and a little bit to the left we head to cloudy grey cold England, and the Excalibur Casino. It's the Middle Ages when King Arthur grew up and finally found his sword. Feel like hacking into a piece of mutton or downing some old fashioned booze? Fancy pulling out your jousting stick and using it on the dancing Maidens? I recommend the Tournament of the Kings!
And if that's a little too aggressive for your liking head over and see 'The Thunder From Down Under' They actually offered me a job, but I declined.
We're getting hungry so we take a short trip across the Atlantic to New York New York that massive jungle of high rise apartments and office buildings. The NYNY is one of my favourites to look at from a distance with a panoramic display of the Manhattan sky line. We head straight to NYPizza for a delicious 18" slice washed down with a rich hand-craft malt brew. With our bellies full of gut luggage, then and only then can you jump onboard The Roller Coaster, formally known as the Manhattan Express. The Coaster is a beauty whether ridden day or night, with views of the Las Vegas Strip and a close up of the Statue of Liberty.
U-turn, back across the Atlantic to Italy and the dancing fountains of the Bellagio. The original design was focusing on that warm Mediterranean climate and the rich villas of Lake Como. Apparently George Clooney owns one here, I've never got an invite though…Probably because I am Marc Passion and he is not. My advice is to use your limited time elsewhere. See the fountains light and music show, give your girl or boy a romantic kiss and move on. Nothing more to see here unlike the rest of Vegas.
Keeping on our mission we reach probably my favourite place in Vegas. Nothing has been spared here. Its design is the best in the world and you could spend hours here wandering around from bar to bar just taking in the extraordinary architecture. I'm talking about the Cosmopolitan of Las Vegas and home to Marc Passion when I visit. Many hours have been spent at the Chandelier Bar, three levels of crystals falling from the wicked painted ceiling to the floor. A signature drink, the Fire Breathing Dragon is a must before hitting up Jaleo Spanish Tapas. Best in Vegas and right up there with best I've had around the world.
This place is, in the words of Howard Hughes "the way of the future, the way of the future, the way of the future."
By now we were a little light legged, a little tired and have realised that our goal was not going to be achieved. If you haven't been to Las Vegas before it is hard to comprehend just how big this place is. It's almost for 4 miles or 6.4 kilometres, a walk that is easily achievable if not for the numerous beers under our belt.
We decide to finish off at The Paris. A night cap is in order and champagne and red wine is on the menu. On our way in we pass the Arch de Triomphe, that famous round about where Homer Simpson goes round and round…and round. We look up and see the Eifel Tower, an almost exact replica apart from the 2 to 1 scale. Only the Las Vegas airport stopped the casino from building it to its exact height. Inside is like walking though those small cobbled streets below Montmartre, brass street lamps light up the path to the elevator to the top of the Eifel Tower. A few slurps of that red wine and we are done!
We return to base, reconvene, drop the cameras off and rehydrate with a few more beverages. What time is it? Who knows and who cares. Vegas is a 25 hour operation with whatever you want at anytime. This place is ridiculously amazing and I recommend everyone to go at least once. I've been 5 times and am returning again very soon.
And if you think there's not much happening except gambling, you'd be wrong. This place caters for everyone from theme parks, lagoon swimming pools, Grand Canyon adventures to upscale and downscale restaurants along with music and theatre shows.
Look it up, I'm not lying!
Related posts: