GETTING TRIGGER HAPPY WITH THE CAMBODIAN ARMY
Cambodia is officially the third most corrupt country in the world (source: Transparency International) where money talks and bullshit walks. They also have stockpiles of aging weapons from the Pol Pot regime. Put the two together and it's possible to fire bazookas and an assortment of other weapons into the distance, courtesy of the Cambodian Army.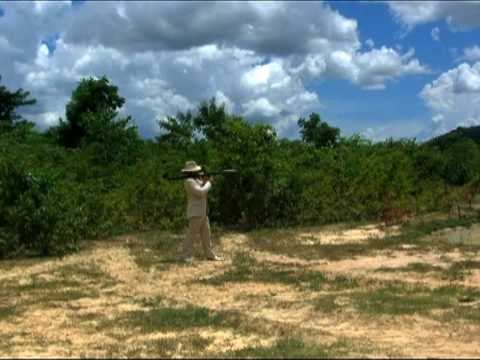 Where: Phnom Penh, Cambodia
Cost: Rocket launcher = US$300 per shot (AUD$455 / Euro 230 / GPB 215)
M16 machine gun = US$200 for 50 bullets ( AUD$304 / Euro 153 / GPB 144)
M79 grenade launcher = US$150 per shot (AUD$228 / Euro 115 / GPB 108)                                                                                    Hand grenade = US$50 per grenade ( AUD$76 / Euro 38 / GPB 36)
Passion's Passage
As the capital city, Phnom Penh is serviced with an international airport, regular slow and fast boats from Vietnam and Seam Reap, plus buses for those who are really strapped for cash. There are plenty of hotels to choose from, but Marc Passion normally stays in the reasonably priced Number 9 Guesthouse, Ph 93, Boeng Kak Area (US$8-10 per night).
Contacting the Cambodian Army
It can't be legal, can it? Who knows! But your friendly Tuk Tuk driver is the key to the whole experience. A quick word, a few dollars pushed in their hand and, before you know it, an expensive Lexus will be picking you up and driving you an hour out of Phnom Penh.

Trigger time
The weapons and ammunition are REAL, so safety is the first imperative and you'll be fully briefed and looked after by your friendly sergeant major. Once the formalities are over you'll be aiming into the distance, heart pounding, wondering what the kick-back is going to be like. Then… Bang!
Was it worth it?
It's a lot of effort and money for something that is over in an instant, but once you've got the smell of gunpowder in the nostrils you'll be wishing you had taken out more money. Expect to spend at least $500USD on an assortment of weapons, but there really is no limit to how long you can stay out there… if you've got the cash.
Other activities in Phnom Penh
The sad truth is Phnom Penh's tourist industry is based on one of the worst genocides in history, orchestrated by Pol Pot in the 1980s. The Killing Fields and Tuol Sleng Prison are the main sights to find out about what happened. Read 'The Pol Pot Remige' by Ben Kiernan before going.
Was this information useful? Please let us know through our contact page
Related posts: