HAPPY PIZZA :)
There are a lot of happy people in Sihanoukville, a chilled out coastal retreat for travelers wanting to recharge their batteries. A glance at the right menu and you'll be impressed by their choice of pizza toppings and shakes. Put on the Bob Marley and roll a reefer. It's time to chill, mon.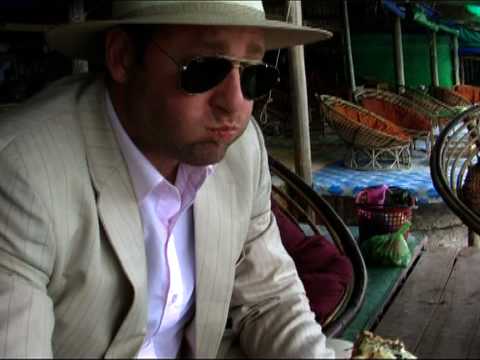 Where: Sihanoukville, Cambodia
Cost: Happy pizza = US$10
(AUD$15 / Euro 7.50 / GPB 7.20);
Happy shake = US$3
(AUD$4.50 / Euro 2.30 / GPB 2.20);
Passion's Passage
Sihanoukville's domestic airport was closed during Marc Passion's latest trip, meaning a five hour bus ride from Phnom Penh costing $10 was the only way to get to Cambodian's coast. There are plenty of hotels to choose from, but Marc Passion normally stays in the reasonably priced Monkey Republic Bungalows, Serendipity Beach (US$8 – 10 per night).
So what makes Happy Pizza?
The great thing about Happy Pizza is that it can be whatever pizza you want it to be. A Hawaiian, a New Yorker, even a Quattro Formargio. What makes it so happy is the secret ingredient liberally sprinkled on top. After consumption, you'll debate for hours on whether it makes the pizza taste better, before curling into bed at 9pm to embark upon best sleep you'll ever have.
It's tradition, mon!
Back in the day, Cambodian hotels used to leave guests free bowls of marijuana. You won't get that now, but it is still traditionally used in Khmer food… and pizza. But BE WARNED, all drugs are illegal in Cambodia and the police will arrest you if that secret topping finds its way into a cigarette.
Was it worth it?
A diet of pizzas and milkshakes isn't good for anyone, so don't get too enthusiastic about this new taste sensation. You didn't come all this way to eat a Domino's and do a Lord of the Rings DVD marathon.
Other activities in Sihanoukville
There are plenty of beaches to choose from, including backpackers' favorite Serendipity and Orchheuteal, both of which are a stone's throw from bars and hotels. Diving and sailing are also popular pastimes here. Tuk tuk drivers will be more than happy to take you round at a leisurely pace.
Was this information useful? Please let us know through our contact page
Related posts: