Just Cruisin'
I jumped on board the Ecstasy, part of the Carnival Cruise Lines. A massive boat with basically a small city inside.
We embarked from Galveston, Texas. It's where Houston's port sits and the rich of the city have their water front properties. It's all relatively easy to check in. Porters come and take your bag, you walk through security and in a round 20 minutes you're on the boat and ready to eat or drink at one of the many restaurants or bars on board.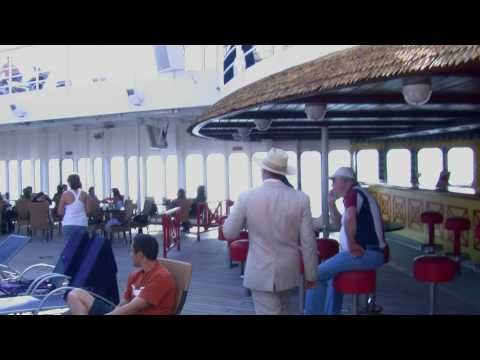 I had never been on a cruise before and it can take a few days for you to get your bearings and to enjoy all of its facilities. At times I even forgot where I was and if it wasn't for the occasional sway of the boat, you hardly remember that you're at sea inside this small city. The Ecstasy holds around 2000 people including passengers and the crew.
From Galveston we head south towards Progreso in Mexico, on the Yucatan Peninsula. After a night at sea (including drinking a heap, eating up a storm and burning holes in my dancing shoes) we arrive early in the morning in Progreso ready for our first trip.
The city of Progreso is around an hour from Chichen Itza, the most famous of the Maya archaeological sites in the state of Yucatan. More information and video coming in a later post.
From Progreso we cruise around the peninsular to Cozumel on the Caribbean Sea. My overnight cruise began with smashing some prime rib at the formal dinner and washing it down with Shiner Bock. My new favourite beer courtesy of a lovely young lady. From there I drank more, took some cash from the house on Caribbean Stud Poker before slamming a few more beers on my way to the comedy show. I can't remember his name but he was one funny bloke. For those of you who are afraid bad words, he didn't even use the F word once!
Come morning we arrive in Cozumel. The water is crystal clear blue and the sun is high in the sky. For the ladies shopping is a plenty. There are other Ruins to visit or if you're up for a bit of an adrenaline hit as I was, Zip Lining is the way to go. Click here to see post and video. There's plenty of diving and snorkelling too.
By late afternoon, we've left Cozumel and on our way back to Texas. The cruise I went on was a 5 dayer, but many more options are available. Check out www.carnival.com for a heap of information about cruises around the world. They have early bird specials so if you're budget is tight check in early. And beforehand I was a bit sceptical, but after I have to say everyone needs to try it at least once!
Related posts: