Rollercoasterology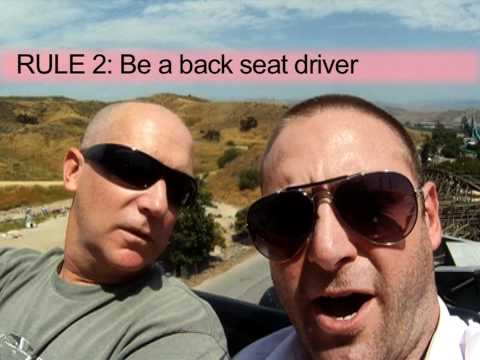 Want speed and a body rattling adventure? Then head to Los Angeles Six Flags Magic Mountain with 18 Coasters. More than anywhere on the planet.
I went there with Roller Coaster Dan. An expert and veteran of Rollercoasterology. Dans knowledge is vast with all sorts of facts from the oldest, the longest, the fastest and what ever you want to know about Roller Coasters.
In 2000, Dan road 100 coasters with a mate on a 'Coast to Coasters' road trip in 18 days (3 days off for recovery) and in 13 States. Check out his site with a heap of info on that trip: www.coaster2000.com
We ripped through a few coasters in the sweltering heat to film a few coasters and bring you a few rules about riding coasters.
Marc Passion Travel and Coaster2000.com give you the FIRST EVER:
Rules of Rollercoasterology
1. Hands up: When riding coasters your hands must be up at all times.
2. Be a back seat driver: Always sit at the back of a wooden roller coaster to feel the most G-forces.
3. Be the driver: Always sit at the front of a steel coaster for the best view.
4. Hangtime: Seek out airtime, the holy grail of coaster experiences.
5. Laughing is compulsory
6. No chucking, spewing, throwing up unless its on someone.
7. Crushing: Check the coaster course and know which way the coaster turns the most. Sit in the outside seat, hands up and crush the person next to you with full force of your body using the G-forces. Remember no elbows.
8. The Angry Bird: A highly dangerous game of Angry Birds. This is only for the professional rider. Finish a level of Angry Birds before the ride ends. Only begin once the coaster has hit high speed.
9. Portrait Photo: Know where the cameras are so you can make a good picture!
10. Photo the photo: When exiting the coaster have your phone ready take a happy snap of your Portrait Photo (Rule 9).
Related posts: