THE TEMPLES OF ANKOR
Built over a thousand years ago by an ancient civilization, the Temples of Angkor are a collection of breathtaking monuments built for the Gods and used as a set for Angelina Jolie in Tomb Raider. The French colonials did something right by restoring the temples to their former glory; opening another window on human history.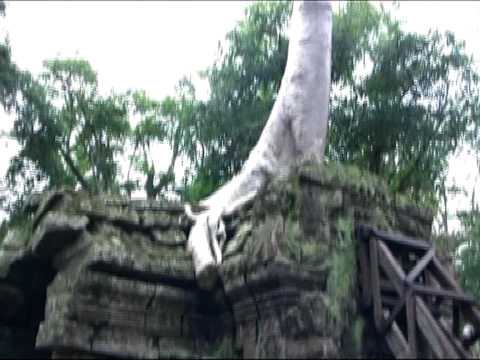 Where: Siem Reap, Cambodia
Cost: Tuk tuk driver = $10 per day
(AUD$15 / Euro 7.50 / GPB 7); Entry to the Temples of Angkor = US$40 for a three-day pass (AUD$60 / Euro 30 / GPB 28)
Passion's Passage
Siem Reap has an airport with regular flights to / from Phnom Penh and Bangkok. It's also possible to get a fast boat up the Tonal Sap lake from Phnom Penh or by bus. The famous Bangkok to Siem Reap bus scam means flying from Thailand is the only comfortable option. There are plenty of hotels to choose from, but Marc Passion normally stays in the reasonably priced Popular Guesthouse, Psar Chaa Area (US$8- 15 per night).

The temples
There's an incredible number of temples to visit, ranging from the grand Angkor Wat and the spooky Angkor Thom, to the smaller, incomplete Ta Keo and Ta Som where ancient tree roots have become one with the structure. One of the most popular is Ta Prohm where the films Tomb Raider and Two Brothers were shot. Wikipedia is the best online source for detailed information about each site.
How to get around
By Tuk tuk from Seam Reap is the best way to see the temples spread throughout a dense forest. A daytrip will cost around US$10 and they'll give you plenty of time at each stop. They'll probably also recommend cafés and eateries they get commission from, but most are of a reasonably good standard anyway.
Three of one dollar
As you travel between temples you'll be approached by wide-eyed Cambodian cherubs wanting to sell anything from photocopied books to homemade bracelets. They are harmless and might have something of interest, but you might get tired of their 'three for one dollar' theme tune – making the tranquility of the next temple all the more appealing.
Pol Pot
While the Temples of Angkor are a celebration of Cambodian history as opposed to the depressing Killing Fields in Phnom Penh, they are linked.  The temples were the inspiration for Pol Pot in the 1980s to force people into the rice fields to mirror the ancient civilization. Tragically, the latest theory suggests the network of Angkor waterways were simply decoration and had no practical purpose. It's worth buying a book such as 'First they Killed my Father' by Loung Ung to better understand what this tiny country has been through.
Was it worth it?
This is a must for anyone going to Cambodia. You'll be truly amazed at what was created over a thousand years ago and wonder how it all went wrong for the Khmer people.
Other activities on Siem Reap
Many a backpacker has fallen foul on Pub Street where happy pizza and booze go hand-in-hand. There are also plenty of above-board massage parlors to help those tired feet.  The Cambodian Landmine Museum requests entry donations that go towards clearing the still dangerous countryside.
Was this information useful? Please let us know through our contact page
Related posts: