Zip Line Cozumel
So you're travelling through Mexico and need a bit of time out between Tequilla shots and the ever pushed shopping tours. Feel like flying through the air?
I visited Fly High Adventure in Cozumel. Here you'll get the adrenaline hit your looking for on their 6 Zip Line Circuit (731 metres of lines). The highest being just under 12 metres and the longest 120 metres. I used my GoPro Helmet Hero to film the day. Using GoPro's Chest Mount Harness and the Wrist Housing, I was able to capture full HD footage, awesome angles and clear audio.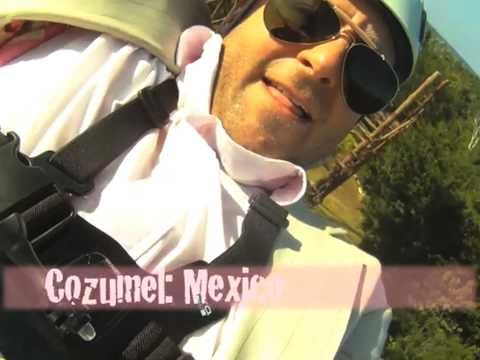 The team of guides are all trained and competent and get you flying from tower to tower in a matter of minutes. The best safety equipment in PETZL is used, just like many professionals in vertical environments.
At all times you are hooked on to a safety line when flying and climbing. A double line with double pulley system is used. I felt secure the whole time. In fact I wanted to go faster and further after each run.
I arrived around 8.30am and I strongly suggest you do the same. I was in a group of three and we were able to do two runs of the six zip line circuit. That took us about an hour and twenty minutes, then a group of 26 arrived. The guides said they would only get one round of zip lining. So make sure you get there early!
On arrival you're decked out in your safety harness and helmet. Any loose objects can be stored in a safe locker. Theres a quick safety briefing explaining operations of the equipment then you're ready to climb. Another great thing about the park is the quiet ecological surroundings and the guides are great fun and push you to go faster each time.
It costs around US$60 which might seem a little expensive but it's definitely worth the adrenaline hit! Check out my video and photos, and further information can be found on the Fly High Adventure Facebook page.
Related posts: